Please note that you will need to book at least five weeks in advance of the date you would like to start your program
We need time to order and set your eggs so that they are ready for your delivery date. Some dates are more popular than others, so it is advisable to book as early as possible. We will do our best to accommodate you with the date of your choice. However, we cannot guarantee that this will always be possible.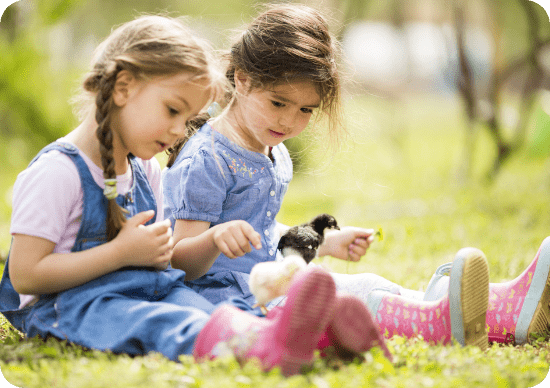 The Henny Penny Hatching program provides such a beautiful experience for the children while requiring minimal preparation/maintenance on the part of the educator, as everything is provided.
Jescott Montessori Preschool, Magill SA
I believe this is a great program which promotes the five learning outcomes of the Early Years Framework.
Yarra Valley Preschool, Templestowe VIC
Just wanted to say a huge thank you for the wonderful chicken hatching experience we had with your company. It was absolutely brilliant and as I am sure you hear all the time, we had many residents involved, talking and interacting, who rarely or never do this.
Charles O'Neill Hostel, Mayfield West NSW
The students at Eastwood Public School were engaged and worked really well with this valuable program, which benefitted all.
Eastwood Public School, Eastwood NSW
It is such a wonderful experience for the children, and the service is very professional.
Jumping Beans Childcare Centre, Ormiston QLD
The children love it. It gives them two weeks full of enjoyment.
Helping Hands, Burpengary QLD
Henny Penny Hatching is very helpful and they provide everything we need. The kids really enjoy watching the little chicks hatch! It is fantastic for them to learn about the lifecycle of a chicken, and how to care for a pet.
Livingstone Christian College, Ormeau QLD
It is a great experience for children, it is very professional. The Henny Penny Hatching staff are very friendly and supportive and take the time to explain everything clearly. We can call them at any time with any questions or concerns.
Livingstone Christian College, Ormeau QLD
Excellent service was provided, everything was clean and well-presented and the students were able to view and interact with the chicks. The program was a wonderful way for the students to witness the life cycle of the chicken first-hand.
Glenhaven Public School, Glenhaven NSW
Our classroom experience in learning about new life and caring for newborn chicks was so valuable. You can't get that from books or YouTube! The students learned lots about care, bonding, compassion, safety and most of all love.
Edinburgh Adventist Primary, Lilydale VIC
Every day the children were fortunate enough to witness a chick hatching from its shell. The growth of the chicks was remarkable and having the opportunity to care for animals gave the children confidence and an understanding of animal life.
Eagle Junction State School, Clayfield QLD